The steps below describe how to copy a project from the cloud so that you can use it with your students. You can also watch a video by clicking the image below: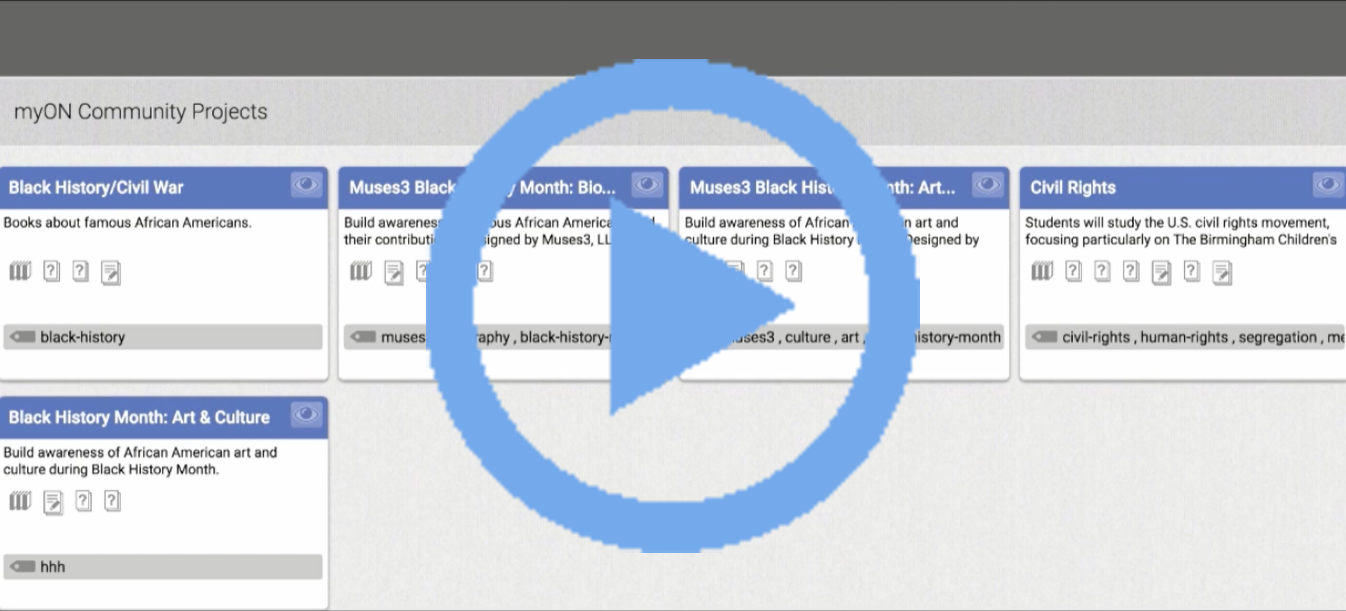 The project cloud includes pre-made projects from educators in your school, your district, and the myON community. You can copy and re-use these projects as-is, or you can edit them for your students.
If you're logged in as a Teacher, click Classroom, then Projects. If you are a Building Administrator, click My School, then Projects. If you are a District Administrator, select My District, then Projects.
On the My Projects page, click the cloud icon.

Search for a subject. For this example, we will use "myths" as a subject for the project. We are trying to find whether another teacher has shared a related project to the cloud. (See below.)

Notice there are many projects that have been shared by other teachers. To view information about any project, click the eye icon in the top right corner of the project card.

Any additional information on this project that the teacher shared will be available; if the project has more than one type of task, the tasks will be on separate tabs. If you choose to use this project, click Copy to My Projects, and the project will be sent to the list of your projects.

The example below shows what you will see after you copy the project. Notice that the person who created the project only included a Reading Task. Once it's been copied, you can edit the Reading Task to add or remove books, or you can remove the Reading Task and/or assign other tasks just as if you made the project yourself. Be sure to change the title; this will differentiate your copy of the project from the original and from other projects. (In the example below, the title has been changed to add the text in parentheses.) Make sure you save your new copy of the project by selecting Save in the top right corner; this is necessary even if you haven't changed the project.

You will now see your copy of the project in your Inactive Projects. You can assign this project just like as you would a project that you created.

Educators and administrators can share projects to the community project pool. Mark your project as shared if you want others to benefit from the work you did to create projects. When you choose to share a project, a copy of the project is shared with the community at that point in time; any changes you make to your personal copy later will not be made in the cloud copy.